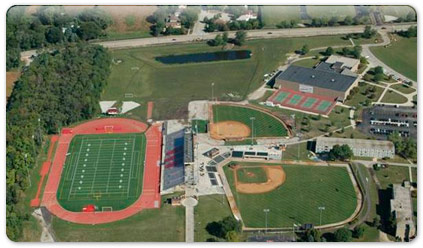 The Village of Lisle-Benedictine University Sports Stadium features a world-class 9-lane track, a synthetic turf infield, electronic scoreboard, seating for 3,000, and stadium lighting.
Its track & field complex is one of just two Illinois IAAF-certified facilities (meaning it meets all requirements to be sanctioned for hosting international competition). The 9-lane Olympic-sized polyurethane track features a synthetic turf infield with two 6,500-square foot polyurethane "D-zones" at either end, and an integrated electronic timing system.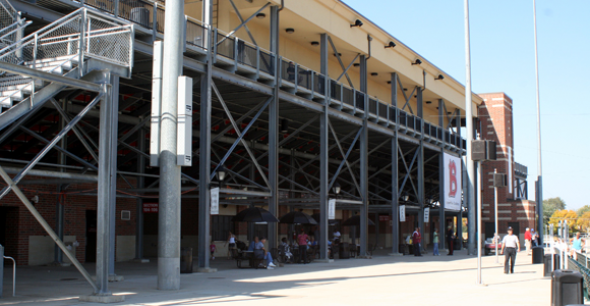 Atop the seating area are located a main press box area and broadcast booth, four enclosed luxury suites, and open-view sundecks on either end.
Natural grass warm-up fields and throwing venues are located adjacent to the stadium.
Under the stadium are multiple restroom areas and permanent ground-level concession booths offering a variety of food and drink menu items.
The Village of Lisle-Benedictine University Sports Stadium is conveniently located off the I-88 and I-355 freeways and 30 minutes from both downtown Chicago and O'Hare International Airport, and 35 minutes from Midway International Airport.